Episode 48 – Mitchell Sweet – Proportional Reasoning
In this episode, Mark talks with Mitch Sweet, who teaches using modeling methodology at Scottsdale Community College. They discuss his journey with modeling, and the many workshops he attended before becoming a workshop facilitator. They talk about building a community of modelers and the differences between high school and college. Finally, they talk about the work that Mitch and others have done researching the effectiveness of using proportional reasoning to get students to link about how changing one variable would affect the other, rather than just blindly plugging numbers into an algorithm.
Guests
Mitch Sweet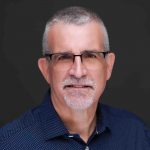 Mitch has been teaching, primarily chemistry, for the past 15 years at both the high school and college level. He took his first Modeling workshop in 2010 and began co-leading Chemistry Modeling workshops in 2016. Mitch currently teaches Fundamental Chemistry and General Chemistry I and II at Scottsdale Community College.
Highlights
[7:37] Mitch Sweet "the idea is, no matter what it is we're doing in life, we're constantly building models in our head of how we think things work. And that's sort of inherent in the nature of learning."
[11:44] Mitch Sweet "we're trying to build a culture with our students where they're really responsible for their own learning, and we're trying to get them to be independent thinkers and to be able to engage with their fellow classmates."
[33:41] Mitch Sweet "so getting students to share, getting students comfortable with putting things out there that they're maybe not a hundred percent sure of is a really important part of building the culture within the class. And we found it is more than worthwhile, that investment of time"
Resources
Download Transcript
Links