Episode 45 – Phil Culcasi – Give Kids a Reason To Learn
In this episode, Mark talks with Phil Culcasi, a science and math teacher from Illinois, about his experience using modeling methodologies and leading workshops. They talk about asking questions to get at the students' thinking, grading without points, and whiteboarding. They also talk about Phil's work with aspiring teachers and his current project to bring whiteboards and discussion into the precalculus classroom.
Guests
Phil Culcasi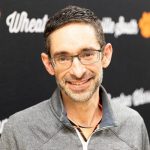 Phil Culcasi has over 25 years of experience as a math and science teacher, and has taught at Wheaton Warrenville South High School since 2002 and served as science department chair since 2012. He is an active leader and participant in professional development sessions and workshops regionally and nationally, and also serves as assistant girls basketball coach at WWSHS. Culcasi is also an adjunct professor at the University of St. Francis, teaching graduate level education courses. Culcasi received a B.S. in Chemical Engineering from the University of Notre Dame, an M.A. in secondary education from Lewis University, and administrative certification from Aurora University. In addition, Culcasi is a 2022 Golden Apple Fellow and was a Presidential Award Winner in Mathematics and Science Teaching in 2017. He is also National Board Certified.
Highlights
[8:55] Phil Culcasi "I think those are the ways to get better as a teacher and to get better at modeling is to watch other teachers, to record yourself and watch yourself, and then think about what you're gonna ask the kids, because it does take time and practice."
[20:11] Phil Culcasi "The most difficult part, especially in the new world that we're living in, is getting kids to try the problems before we have the discussion."
Resources
Download Transcript
Links