Episode 44 – Kelli Warble – "Strong Advocate for Science Education"
In this episode, Mark talks with Kelli Warble, long-time modeler and now works at Arizona State University primarily in physics education. They talk about her early exposure to modeling instruction and the new units for modeling in the middle school math classroom that they're working on, including this summer's bite-size workshops in middle school math. They also talk about several of Kelli's top tips for teaching in the modeling classroom – most of which would be excellent tips for any classroom.
Guests
Kelli Warble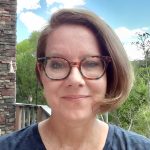 Kelli Warble became hooked on teaching after securing a part-time job running mathematics and science activities for 2nd through 9th graders at an after-school program in central Phoenix. She received early exposure to physics education research via the Methods of Teaching Physics course at Arizona State University, which was (and still is) anchored in Modeling Instruction pedagogy.
In 1994, Kelli started teaching mathematics and physics in the Phoenix metropolitan area. She spent 18 years as a high school teacher, primarily at Title I schools. As a high school teacher, Kelli constantly strived towards integrating the Modeling Instruction pedagogy embedded in her science courses into her mathematics courses as well. In fall 2012 she became the full-time Physics Teacher in Residence for Arizona State University.
At Arizona State, Kelli currently teaches courses focused on physics education, runs the Learning Assistant program, and is a member of the APS IDEA team focused on diversity and inclusion initiatives. Kelli is also consulting on a new initiative, funded by the Arizona STEM Acceleration Project, to develop curricular materials for Modeling in Middle School Mathematics. She currently serves on the board of the American Modeling Teachers Association as past president, and is also on the board of the American Association of Physics Teachers as president elect.
Website | Twitter | Discord: Kelli W#4784
Highlights
[5:12] Kelli Warble "One of the ones that we're working on is a modeling workshop in middle school mathematics. …and we will be leading our first workshops this June 2023 in Mesa, Arizona."
[29:23] Kelli Warble "I've learned that you have to give kids freedom, but not more freedom than they can handle."
Resources
Download Transcript
Links