Episode 35 – Bryan Battaglia – Leading Students to Deeper Understanding
For this episode, Mark caught up with physics modeler Bryan Battaglia, during a modeling instruction workshop on computational modeling, physics first with bootstrap. They talked about Bryan's teaching journey and how modeling meshes quite well with the IB curriculum. They spend time talking about things we may do as teachers that actually stand in the way of student understanding, and talk about things we can do that help lead students to deeper understanding.
Guests
Bryan Battaglia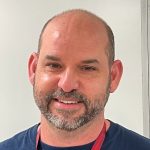 Bryan Battaglia is a 24 year science teacher from Macomb, Michigan. He earned a B.S. in Genetic Biology from Purdue University intending to go into cell biology or marine biology in grad school, but his journey took him to teaching, first middle school, and now high school physics. He has led modeling workshops and has helped to develop the computational modeling physics first with bootstrap curriculum.
Highlights
[8:00] Bryan Battaglia "I had considered myself to be a constructivist style teacher, but I didn't actually know what that really meant until I took my modeling workshop and I'm like, oh, this is how you do that."
[18:32] Bryan Battaglia "being able to think about energy and develop some sort of useful model for energy that we can use in all contexts is way more important to me than Newton's second law."
[19:55] Bryan Battaglia "one of the things that I strive to do in class is develop that culture where kids feel safe to bring up ideas. We celebrate incorrect answers as much as we celebrate correct answers because it's through disproving ideas that we have more confidence in what we eventually deem to be the correct answer."
Resources
Download Transcript
Links