Episode 34 – Gloria Kreischer Gajewicz – "Improving Student Outcomes Through Modeling Instruction"
In this episode, Mark talks with Dr. Gloria Kreischer Gajewicz about her experience finding modeling instruction as a veteran teacher, about shifting to standards-based grading, and about her Ph.D. research into improving student outcomes through modeling instruction.
Guests
Dr. Gloria Kreischer Gajewicz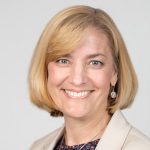 Dr. Gloria Kreischer Gajewicz has been a high school science educator for more than 23 years, teaching various science courses in Ohio including Biology, Anatomy and Physiology, Physics, Earth Science, and Chemistry. Currently, she teaches Chemistry and AP Chemistry at Ottawa Hills High School in Toledo Ohio.
She began using Modeling Instruction in 2011 after taking a workshop at Bowling Green State University in Bowling Green, Ohio. She earned her doctorate in education in 2019 from Bowling Green State University.
Facebook | Instagram | Twitter
Highlights
[25:50] Dr. Gloria Kreischer Gajewicz: "a lot of our content knowledge as science teachers really comes from our training at the university level as an undergrad. The trick is then how do we take that content knowledge and turn that into something that's understandable for our students."
Resources
Download Transcript