Episode 33 – Earl Legleiter – "Modeling Workshop Leader for 25 years".mp3
In this episode, Mark talks with Earl Legleiter about what it is like to be a science teacher in a rural school, and how modeling instruction helped Earl to improve his skills both in physics and as a physics, chemistry, and biology teacher. They talk about ways Earl helps students to think on their own, rather than waiting for a teacher to tell them what to think, and they talk about the work Earl is doing training teachers.
Guests
Earl Legleiter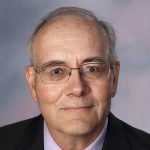 Earl Legleiter has taught various science courses for over 20 years in rural schools, some of those years as the sole member of the science department. Earl Legleiter is the director of the Science and Math Education Institute at Fort Hays State University improving STEM instruction and learning in western Kansas. He provides NGSS and Modeling Instruction professional development for in-service teachers throughout the nation. He also coordinates the STEM Noyce Scholars Rural Education Program, and teaches a Rural STEM Education Seminar at FHSU.
Highlights
[13:57] Earl Legleiter: "I think, for teachers, it's a journey. It is a process where by you can get started with modeling and you can implement it in your classroom, but it takes repeated practice to become good at it."
[16:51] Earl Legleiter: "what you're doing is you're developing and using models, which is one of those science and engineering practices from NGSS. And they come to realize, this is what science instruction is supposed to be like. "
Resources
Download Transcript