Episode 31 – Dr. Anita Schuchardt – "Modeling Biology with Mathmatics"
Mark talks with Anita Schuchardt about her experience teaching using modeling methodology in biology at the university level. They talk about the value of having students develop mathematical models as well as pictorial representations of concepts they study. They also talk about the development of the modeling curriculum resources for biology as well as the research happening today for biology education.
Guests
Dr. Anita Schuchardt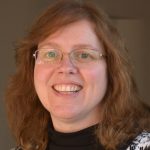 Anita Schuchardt is an assistant professor of biology education research in the Department of Biology Teaching and Learning at the University of Minnesota. Anita has received a Ph.D. from Columbia University in genetics and development and from the University of Pittsburgh in learning sciences and policy. After receiving training in Modeling Instruction in physics at ASU, Anita and her colleagues at Shady Side Academy developed Modeling Instruction in high school biology. She participated in refinement of the Modeling Instruction in biology units through the MoBILiSE program led by Dr. Kathy Malone. Modeling Instruction principles continues to inform Dr. Schuchardt's work and teaching. She has published articles on the effect of mathematical modeling curriculum on students' problem solving and conceptual understanding in statistics and genetics. Her research interests include developing and understanding student sensemaking in biology and mathematics and creating and assessing model-based interventions that promote sensemaking.
Highlights
[27:03] Anita Schuchardt "I try to give them lots of different tools and lots of different representations and lots of different ways to access the material. "
[33:13] Anita Schuchardt "the reason that's so important is because it's been shown that when students do connect science ideas with mathematics ideas, that's when they're better able to solve problems."
Resources
Download Transcript
Links