Episode 29 – Dr. James Vesenka – "Modeling with a University Professor"
Mark talks with Jamie Vesenka, "Dr. V." to his students about modeling instruction at the university level, developing a physics course for students who intend to pursue life science careers, challenges of pandemic learning, and a sensor tool that has been incredibly useful for physics instruction even while studying remotely, iOLab. Finally, they talk about gaps in student learning over the years, and challenges they see teaching higher-order skills today.
Guest Bio
Dr. James "Jamie" Vesenka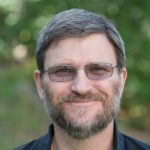 Dr. James Vesenka, "Jamie" or "Dr. V" to his students, is a professor of physics at the University of New England.
In 1995, Jamie was appointed to his first assistant professorship at California State University Fresno, where his research focus was the characterization of quadruplex DNA using the atomic force microscope (AFM). AFMs can now image individual atoms. Figuring out how to reliably image DNA became the dominant theme in Jamie's publication record, now about 60 articles long. At tge University of New England since 2000, Jamie has enjoyed teaching undergraduates. This year, he is spending his sabbatical in Germany working on research and taking some time to talk with college professors about modeling instruction.
Highlights
[28:39] Jamie Vesenka, about physics for life science majors: "to do a good introductory physics for life science course, you want to get rid of those things that aren't gonna be necessary and cover things that really are"
[36:38] Jamie Vesenka, about the iOLab: "having an inexpensive, physics in a box unit is essential for good hands-on learning and to do it remotely. And this is exactly the perfect tool for it. And so yeah, I'm a big advocate for it because it really takes very high-quality data and it's easy to operate and the software does a lot of great stuff."
Resources
Transcript
Links