Episode 28 – David Bates – Middle School Modeler – "It's About Relationships"
In this episode, Mark talks with middle school teacher David Bates about his experience with modeling instruction at the middle school level. They talk about how middle schoolers are developing as individuals and as learners, and they talk about how modeling gives each student a voice, regardless of their prior experience with science education.
Guest Bio
David Bates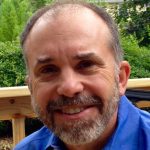 David Bates is an educator who has served in a variety of educational settings over his 34 year career. He earned a BS in Special Education and MA in Educational Leadership from Eastern Michigan University. He has taught Special Education CI adult classes, 1st grade, 3rd grade and 5th grade, served as summer school principal, elementary foreign exchange teacher, and has taught middle school science for the last 17 years in the Dearborn Public Schools. He served on the Board of education for the Ypsilanti Public Schools from 2006 to 2014. Training in Reading Apprenticeship program in 2015 and in Modeling for Science in 2016 have had the most significant impact on his educational philosophy and practice.
Highlights
[12:28] David Bates "I find that… Kids are amazingly honest, at least maybe middle school kids are amazingly honest, brutally honest, sometimes even about whether or not they really understand something or they don't. And that, as a teacher, that's your best feedback in terms of where you are in your own instruction, and what direction you need to go in next. "
[30:23] David Bates: "the environment that that I'm trying to create is an environment where students walk in and bring their curiosity with them"
[31:43] David Bates: "our goal really needs to be not to find out who the smartest kid is in the classroom. But our goal really needs to help everybody in the classroom be the smartest kid in the classroom, by sharing our thinking, sharing our questions, encouraging each other, and supporting each other. And that requires building up a very, very high trust environment"
Resources
Transcript