Episode 26 – Jeremy Secaur – The Students Voice, Intellectual Risk, and A Healthy Support System
In this episode, Mark talks with Jeremy Secaur, a modeling instructor and physics teacher from the Cleveland, Ohio area. They talk about his introduction to modeling, bringing modeling workshops to the Cleveland area, whiteboarding, and Socratic questioning methods. Jeremy talks about being aware of societal norms about "who does science," and how we need to be both careful and intentional about managing discourse in our classrooms. Jeremy's description of how he communicates to students the importance of every voice is particularly worth hearing. Finally, they talk about the importance of support systems, for both the beginning modeler and the experienced one.
Guest Bio
Jeremy Secaur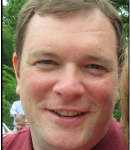 Jeremy Secaur has been teaching for 23 years, all at Elyria High School outside of Cleveland OH. He teaches Honors Physics and AP Physics C. Early in his career, Jeremy was introduced to the work of Lillian McDermott and others involved in active learning pedagogy in physics and that had a profound influence on his teaching philosophy and career trajectory. He finally took his first modeling workshop in 2015 and immediately found that it transformed his teaching for the better. Jeremy has led modeling physics workshops since 2019.
Highlights
[11:57] Jeremy, on professional development: "I know in my own school district, our most popular professional development days are the ones that are teacher-led because teachers want to hear from other teachers, you know, like what ideas are you doing that work?"
[16:37] Jeremy, on whiteboarding: "So the mental processes are different if they're working on one shared space versus their own spaces. And also it's just so much easier to take intellectual risks on a whiteboard because nothing is permanent on a whiteboard."
Resources
Transcript
Links
The Talk Science Primer (22:43)