Episode 25 – Andrea Williams – Modeling Middle School in Michigan
In this episode, Mark talks with Andrea Williams, a middle school teacher in Michigan. She teaches modeling science at the middle school level, and talks about how this is different than teaching physics or chemistry. Or even biology. Next year, she will be doing this with mixed-grade middle school classrooms, so after talking about modeling at the middle school level, they talk about opportunities having students of various grade levels in the same classroom. They also talk about the work that Andrea and other Michigan modelers have done to take the MiStar curriculum units and make them into units that follow along with modeling pedagogy.
Guest Bio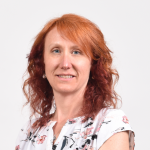 Andrea Williams

Andrea Williams is a middle school teacher in Michigan. She has been teaching middle school since 2003, and attended her first modeling workshop in 2015, where her teaching was completely changed. She has been part of a team taking the Michigan MiStar project-based learning modules and "modelizing" them.
Highlights
[24:53] Andrea Williams, answering the question How has teaching been different since you started the modeling approach? "So many ways it's been different. It's really hard to pin down just one way. Having the kids come to a discussion with data and, and having them actually discuss what their findings are, has just given us a platform for discussing not just the content, but also the process of science, which is phenomenal."
[39:08] Andrea Williams: "patience, grace, forgiveness; try it again. That's what I wish somebody had told me in the beginning. Don't give up."
Resources
Transcript
Links