Episode 22 – Marta Stoeckle – Thoughts on "instructional shifts" and "Educational Equity"
In this episode, Mark talks with Marta Stoeckle, who teaches physics and other science courses outside St. Paul, Minnesota. They talk about the improvements Marta experienced in her teaching after attending a modeling workshop. This led to their discussion of Marta's research in STEM education. Finally, they talk about the new way for modelers to connect — the AMTA Discord server.
Guest Bio
Marta Stoeckle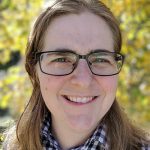 Marta Stoeckle has been teaching science at Tartan High School just outside of St. Paul, Minnesota since 2009. She teaches mostly Physics and AP Physics 1, with occasional sections of other courses including basic chemistry and 9th grade physical & earth science. She is also a Ph.D. candidate in the University of Minnesota's STEM education program where she is studying how classroom experiences influence science identity, especially for underrepresented students. Marta has served on the communications committee for AMTA's board and helped get the Discord server started.
Highlights
[10:16] Marta "Labs came up with almost every single student as something really important. What was really interesting to me is I had a lot of students who talked about the guided inquiry labs and the paradigm labs that are an important part of modeling as something that really helped them feel like a science person. And when they were able to see how the data they took led to that physics knowledge, they felt a really strong sense of ownership over their learning and really started to feel good at physics"
[21:21] Marta: "I was introduced to this idea of activity before concept and then concept before vocabulary…No matter what phrasing they use to describe it, but my experience has been, especially with ELL kids and especially with kids who have learning differences, especially around reading, that's been really beneficial because by the time that we get to that technical word, they have something in their head to attach it to, instead of trying to cram in all of these complicated words before they really have any meaning."
Resources
Transcript
Links
Article: Musings on Instructional Shifts
Article: Gender Self-assessment in Classroom Experiences in AP physics
Pivot Interactives