Episode 21 – Dr. Mina Bhagdev – "Words Matter" Promoting Equity in the Classroom
This week, Mark talks with Dr. Mina Bhagdev, who is passionate about equity and finding ways for all students to be known in the classroom. She talks with Mark about some of the challenges minority students face, and how we as teachers can help all of our students feel safe enough to risk speaking up in class.
Guest Bios
Dr. Mina Bhagdev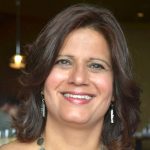 Dr. Mina Bhagdev currently teaches high school chemistry and psychology at Hamilton High School. She just completed her 27th year of teaching, 21 of which have been at Chandler Unified School District in Arizona. She has been teaching Modeling Chemistry for ten years now and worked with Wendy and Chantel to launch STEMteachersPHX, an affiliation of the AMTA. She is passionate about finding ways to close the academic opportunity gaps experienced by minority students. She is focused on equity work at the school, district, and local community levels.
Highlights
[19:23] Dr. Mina Bhagdev: "…if we can overcome challenges and get things wrong and not be afraid to make mistakes, we can learn more from our mistakes than we can from doing everything right, which is where the rich discourse for modeling really comes in."
[26:36] Dr. Mina Bhagdev: "And so if you have created the safe space where you have invested in each kid, and amongst kids invested time and building those relationships, building trust among students, but also between the students and yourselves, that safe space is a place where students can happily make mistakes. It's a safe space where students can explore their understanding without worrying about being judged. It's a safe space where students might even voice their concerns about things that they're experiencing outside of your classroom."
[40:18] Dr. Mina Bhagdev: "for teachers to remember that everything you do and say sends a message, whether it's implicit or whether it is explicit and to be really cognizant of that and to be very, very intentional…"
Resources
Transcript
Links