Episode 19 – Mike Gallagher – "Systemic Reform in Education for Michigan"
In this episode, Mark talks with Mike Gallagher, who is a science educator working to support K-12 science education in Michigan. He and Mark talk about how Mike learned to teach using constructivist methodologies, and later found modeling instruction. They talk about how teachers in Michigan have been using modeling instruction with great success, and the huge impact it has for a new teacher to attend a modeling workshop, or for a young student to be exposed to modeling instruction as early as middle school. By the time those students arrive in their high school science classrooms, they are already being scientists! Mike also talks about the collaboration across Michigan and how that has been valuable.
Guest Bios
Mike Gallagher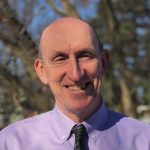 Mike Gallagher is a science educator who serves the Oakland Intermediate School District (Oakland Schools) in southeastern Michigan as their MiSTEM Director, which involves membership in Michigan's statewide MiSTEM Network. He also leads Modeling in Michigan which annually hosts a suite of intensive, 3-week summer Modeling Instruction workshops across the state.
Highlights
[31:37] Mike Gallagher, talking about classroom culture: "So the students have to be ready to feel safe, to turn their brains inside out and expose their reasoning. You know, if a teacher is saying, say more about this, can you clarify what you're saying? What's your evidence? Those are our talk moves. It's very risky for students to be that, you know, safe. And so teachers have to invest in in a classroom culture that is is respectful, that is equitable and focused on reasoning."
[46:52] Mike Gallagher, on new teachers taking modeling workshops: "We've had open seats, so we bring in a young teacher and it's amazing to follow them over five years. First of all, they want to come to more workshops. And in five years, instead of being one of those teachers getting ready to transfer out of out of teaching, they're doubling down on their commitment, they're popular, they're successful."
Resources
Transcript
Links
Modeling Instruction in Michigan
Talk Strategies of the Inquiry Project (TERC) – Videos is the first two rows provide excellent overviews
[Book] 5 Practices for Orchestrating Task-Based Discussions in Science
– Scan of first two chapters