Episode 13 – Mark Schober – "The Richness of Learning From One Another"
In this episode, Mark talks with Mark Schober about his career as a physics teacher, how modeling changed his teaching, how that led him to using Standards Based Grading with Modeling Physics, and later how Mark was part of the group of experts developing the modeling materials for waves and light. Mark talks about how he loves making and sharing ideas for low-cost lab equipment. They end with talking about the importance of community for teachers.
Guest Bio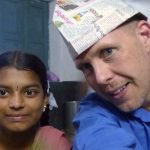 Mark Schober has been teaching physics — with occasional diversions into astronomy, meteorology, chemistry, engineering, flight instruction, and environmental science — since 1996. Nurtured by AAPT, St. Louis Area Physics Teachers, and the Modeling community, Mark has led Modeling workshops in Mechanics, Electricity and Magnetism, Models of Light, Introduction to Modeling, and Modeling Workshop Leadership. Mark served as AMTA president and recently completed a member-at-large term. He helped start STEMteachersNYC and chaired its board while leading various workshops, most recently on standards-based grading. He is currently collaborating on the development of a New York State-NGSS-aligned physics curriculum with NYC teachers and New Visions for Public Schools. Mark is a Presidential Awardee and a recipient of AAPT's Zitzewitz award. He teaches at Trinity School (physics first!) in Manhattan.
Highlights
[9:03] Mark Schober: "the discussion in the class became the focus so that I was able to go and instead of trying to ask students every day, with their limited understanding of physics, to try to get into my head, instead, I was putting the students in a position of "explain this to me, tell me about what you're seeing." And then I could use all of my physics experience to try and get into the student's head. And that was so key because every day then I'm seeing where every student is in their learning, what they're having trouble with, what they're getting and where I needed to spend more time with the students to help them better understand the concepts of physics."
[19:34] Mark Schober, talking about assessment in Modeling Instruction, using Standards Based Grading, "So instead of these assessments with this terrible tension about being too long or too short or too many rinky-dink questions, most of my assessments are a single multi-part robust question that the students can answer in a half a class period to three-quarters of a class period. And it's a question that's mostly blank space, so that there's plenty of opportunity for the kids to demonstrate with multiple representations, which we always emphasize in modeling how they understand a particular idea and how they can communicate their understanding to me or to one another."
Resources
Transcript
Links
An 8-Step Transition from Points-Based Grading to Standards-Based Grading  [Article]