Episode 20 – Kathy Harper – "Ohio State University, Modeling and Engineering"
In this episode, Mark talks with Kathy Harper, a senior lecturer in engineering education at The Ohio State University. She tells us about how she found her way to a modeling workshop half her lifetime ago, and how modeling has changed her life. They also talk about the work that Kathy has done bringing modeling workshops to Ohio, and then having workshops to develop small activities to bring tastes of engineering to our science courses. We hope you enjoy listening!
Guest Bios
Kathy Harper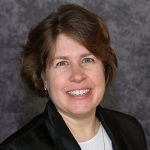 Kathy Harper is a senior lecturer in the Department of Engineering Education at The Ohio State University, teaching in the Fundamentals of Engineering for Honors program. Her involvement with Modeling Instruction began in 1995. She has directed dozens of workshops for Ohio science teachers in Modeling Instruction, piloting the first workshops to incorporate engineering content into the Modeling framework. Her research includes an array of educational topics, but most recently centers on assessing classroom-level innovations. She has made conference and workshop presentations on topics such as problem solving, cooperative learning, reflective journaling, first-year engineering courses, and, of course, Modeling.
Highlights
[26:05] Kathy Harper, talking about starting to develop engineering content using a modeling framework "what if we offer a one-week workshop for people that have already taken a modeling workshop to come in and we'll just work through ways that we can add engineering into an existing modeling curriculum. …But one of the things I really remember was one teacher said "My advanced students are usually debating between a career in medicine or a career in engineering. And they all feel like they understand what medicine is. And so I think they're more likely to choose that, but they don't really understand what engineering is." …So we worked then as a group to think about some activities that we could add, just to introduce students to engineering design that were largely independent of content."
[40:01] Kathy Harper, talking about funding for modeling workshops and state funding for professional development "we need to do something to get those mechanisms back in place so that we can support these state-level, or at least, you know, portion of state-level workshops, where again, like-minded teachers can get together, talk about the content and the pedagogy. Where we can teach these workshops for the people who teach these workshops are real K-12 classroom teachers. Not university people like me; people that teach in very similar circumstances to the people attending the workshops. Those are key."
Resources
Transcript